The Terre Haute Fire Department Swiftwater Rescue Team came out to the public Wednesday afternoon on the banks of the Wabash River in Fairbanks Park.
The team is the brainchild of Bill Berry, who has served as head of THFD since April 2021.
"When the mayor nominated me, I told him that was one of the biggest goals I really wanted to achieve," Berry said. "It's just another service we can provide to our citizens. We have a lot of guys who are already trained as swift water technicians. It's a small fee for the mayor to buy this lifeboat."
Mayor Duke Bennett took a ride on the aluminum boat on Wednesday to watch SWR in action.
THFD currently has 62 of its 150 firefighters trained in swiftwater rescue, and another dozen were receiving training on Wednesday. They will receive ice fighting training later in the year.
Initially, Berry wanted a third of his workforce to be trained and far exceeded that number. In the past, the Sugar Creek Fire Department in West Terre Haute has performed the area's swiftwater rescues. The two fire departments have always worked together; now they can help each other in a water emergency.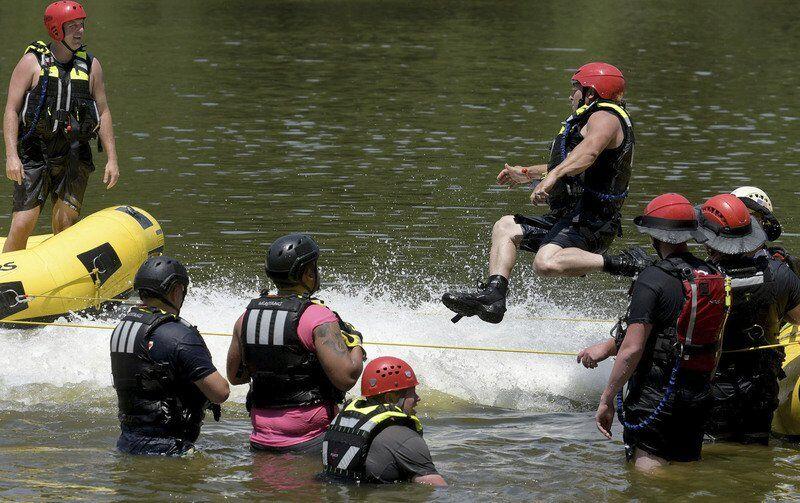 Terre Haute Swiftwater Rescue Technicians will work out of Stations 2 and 5. The town has an aluminum boat for rescues, as well as an inflatable dinghy. The aluminum boat will be housed at station 2, the closest to the river. Rescuers could reach the river "within minutes," Berry said.
"We're excited, the guys are excited," he added. "It's something that's long overdue, and something we need to have in the fire department."
Crews will also rescue citizens in need in the city's lakes and ponds, and will also intervene when flash flooding becomes a problem.
"It's a great service we're adding to the community," Bennett said. "We have more water rescues than people sometimes realize; we just had one at Maple Avenue Park recently. These things happen, and we need a quick response and well-trained people. . If we receive a call today, we are ready to respond."
"It was three young boys in a kayak – I believe none of them had life jackets and two of them couldn't swim," Berry recalled. "They knocked that kayak over. Luckily there was a bystander who swam out and picked up those two boys. He basically saved their lives. He will be recognized at our awards banquet next year. ."
Bennett added: "It was by a lake in the city. Often people didn't think of it. They think of the river [being potentially dangerous] — we must be able to respond anywhere in the city of Terre Haute."
Berry noted that those who attempt to rescue do so sensibly and have a personal flotation device or life jacket when performing a rescue, "But obviously people are going to do what they have to do to save a child. or anyone. It's a matter of seconds and a few minutes and we might not have made it in time yet."
Bill Matney, who has been training water rescue skills for 45 years and is now owner and CEO of Kentucky-based Bill Matney Rescue Training, said the most important thing he teaches his trainees is "not to So as not to die in Our stated goal is to protect them from drowning, and we do this through training, practice, experience and judgment.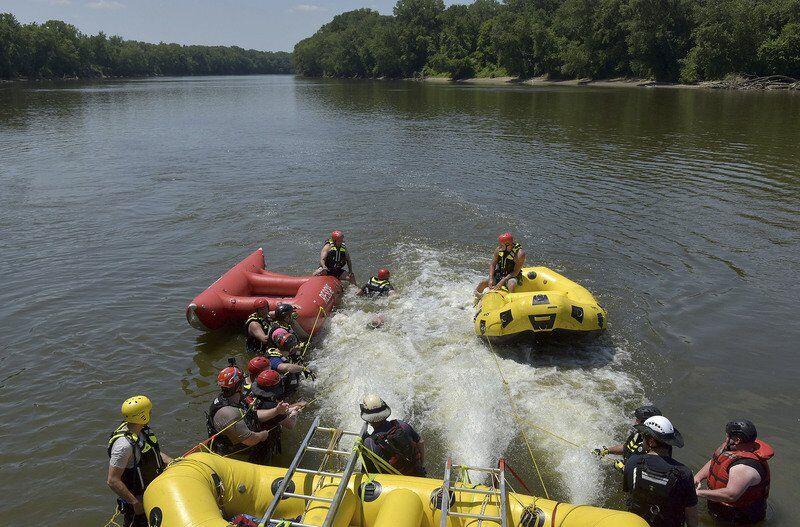 The danger in river rescues, Matney said, is "They're not prepared for the violence of moving water. When you stop and the water keeps moving, it will petrify you. Thing # 1 that victims tell you when you pull them out of the water is, 'I had no idea how powerful water was.' You need to be exposed to it, just like going into battle. In practice, they shoot bullets over your head so you know what they look like. That's what it does, and they need to learn that skill .
There are a number of courses lifeguards must complete to become certified water rescue technicians. In addition to the Water Rescue Technician course (three days of hands-on training in the water), there is an awareness course, an operations course and a rope access course.
Ropes have many functions for the whitewater rescuer. During a drill on Wednesday, inflatable boats were flipped over and teams of three had to correct their position in the water. Two stood on the underside of the boat and attached ropes to one side of the boat, then leaned the other way and used their weight to flip it over and land in the water. The other rescuer, underwater, would push the boat from underneath and grab on and end up inside the boat.
It was a tricky maneuver – the person trying to pull themselves into the boat wouldn't always pull it off cleanly.
Matney gave the THFD trainees high marks for their efforts. "They are exceptional," he said. "They are way ahead of most organizations."
David Kronke can be reached at 812-231-4232 or [email protected]