Fight against the fire
James Moore
'Tinderbox dry' conditions create an exceptional fire risk in London and the rest of the UK during the latest heat wave. The London Fire Brigade (LFB) warned that data showed a significant increase in grass, rubbish and open ground fires compared to last year, triggering warnings as the second heat wave of the summer is starting in the UK.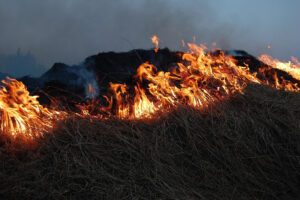 An orange warning for extreme heat has already been issued by the Met Office until late Sunday, with possible impacts on health, transport and infrastructure.
While temperatures are not expected to be as severe as those seen in July, when firefighters had their busiest day since World War II, the lack of rain in recent weeks is expected to continue.
Firefighters have already battled 340 grass, trash and open ground fires in the first week of August, up from 42 the same week last year, and chiefs are warning against barbecues in open spaces or balconies and to ensure that cigarettes and litter are disposed of. of security.
Assistant Commissioner Jonathan Smith said: 'This summer has seen an unprecedented long dry spell with high temperatures so the grass in London is dry and the smallest of sparks can ignite a fire which could cause havoc .
"Despite our continued warnings over the past few weeks, we know there are still people barbecuing in parks, throwing cigarettes out of car windows and leaving trash lying around.
"We really need to prevent the situation we experienced on July 19 from happening again, when homes, shops, garages, outbuildings and vehicles were destroyed across London in a number of major fires.
"So please we ask Londoners to help us protect the city we all love by doing all you can to prevent further grass fires. Please don't barbecue in open spaces or on balconies, dispose of your waste safely and extinguish your cigarettes properly.
The effects of this summer's heat waves have caused several major forest fires across Europe. France is currently experiencing what is being described as a "monstrous" forest fire, which continues to rage after three days, forcing 10,000 people to evacuate their homes. Its fire and rescue service has appealed for help from across Europe, with 1,100 French firefighters already battling the blaze.
UK 'completely unprepared' for fire risk posed by soaring temperatures
Riccardo la Torre, national fire union officer, also warned that service cuts across the UK have left firefighters unable to cope with a repeat of the July scenes. Speaking to Sky News, he said: 'These are brutal fires to fight. The temperature at which they burn, the speed at which they spread. The reality is that we have not been prepared to do this as a fire and rescue service".
"We've had over a fifth of the workforce cut since 2010, that's over 11,500 firefighters cut. Yet we ask them to deal with these extreme weather events with increasing regularity and severity.
La Torre warned that the lack of preparation threatened the lives of firefighters. "Professionals on the ground have warned that these conditions are coming and we have seen the reality of this in recent weeks."
"Firefighters have been injured, firefighters have ended up in hospital, we've seen families lose their homes, businesses have been lost, infrastructure has been destroyed, because we just can't get to these fires. pretty quickly. When we do, we just don't have the resources to deal with it adequately.
Fire Safety 2021 eBook – Is the Industry Ready for Systemic Change?
Download the Fire Safety in 2021 eBook as IFSEC Global and FIREX International keep you up to date with the biggest stories of the year, including new legislation, a roundup of the biggest news and articles on certification by third parties and the role of digital information software in upholding the golden thread principles.
The e-book also includes an exclusive foreword by Ian Moore of the Fire Industry Association, and insight into how the industry is embracing systemic change in attitudes towards risk and safety.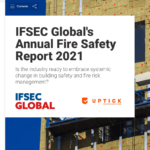 Related Topics